Benefits of having a business plan
There are many benefits of having a business plan, and even if your not a start up, a business plan can give your business focus, and force you to re-think your goals. Many clients who incorporate a company with us will have this document already completed. Having a business plan increases the chances that a business will make it beyond year one. generally, 80% of small businesses make it to year 2, 70% to year 3, and 62% to year 4. *Forbes. Failure reasons range from Market Needs, to cash flow problems, to a lack of business model.
Before writing a business plan its important to understand why you are doing it. Think of your audience. Are you applying for funding? If so it requires a specific structure with a focus on Finance. Is the purpose of the business plan to have a structure in place so you can review your plan going forward? When writing the business plan consider the people who you will be working with. The plan will give them direction also.
A business plan is made up of a number of sections. Simplicity is key when developing it. The following is a basic structure of a business plan for beginners:
Cover Page
Obviously your plan should have a title, the Authors name and contact information.
Contents Table
A reader should be able to quickly flick through to a section for future use.
Executive Summary
This section gives critical information on the description of the company, future growth potential, and reasons for success. It should provide information on a mission statement, and the market environment that the business will be exposed to. The businesses USP should be explained as well as competitive advantages which will attract new clients. Risk assessment is important so an explanation on risks to the business should be made in this section also. The capital required for the business should be stated here also.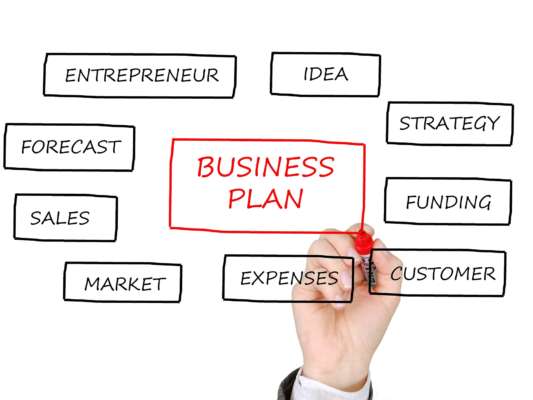 Business Description
This is a detailed explanation of the overview and activity of the business. Your goal in this section is go get potential investors to quickly grasp the business goals and activity.
Industry Background
Give a detailed description of the industry you are trying to penetrate here. Who are the industry competitors? Are there any barriers to entry?
Competitive Analysis
Understanding your competition is key to your ability to alter your product or service so you can achieve a competitive edge. It is important to outline competitors USP's in this section. Outline their strengths and weaknesses.
Market Analysis
This section is about your prospect customers. Outline their needs and how you will satisfy that need. You will need to show here that there is a good opportunity for you in the marketplace.
Management Summary
Readers of this document are generally going to be investors, and they want to know that the team of people involved in the new venture are structures appropriately and have skill sets that will drive the business to success. The document should describe the people in the business and how they will work with others.
Operations Plan
Operations are generally the day to day workflow of the business department by department.
Marketing Plan
Generally the Marketing plan is an entire separate document. The Marketing plan is represented in this document by detailing the strategy of how you will find your customers and sell to them.
Financial Plan
Capital requirement will generally be the focus of the Financial plan of the document. Investors will naturally start with finding out just how much capital is required.
Attachments
Any further relevant documents that can complement the plan.