Public Limited Company Formation Package (PLC) Includes:
Certificate of Incorporation
Memorandum and Articles of Association
Share Certificates
Schedule of company Officers
Logon with full account history
Free Post Formation Support
Directors & Secretary Booklets
Secure Online Document Storage
Free company name check
3 to 5 day fast formation service
Digital Documents by Email
CRO Fees included
Company Seal
Bound Company Register Book
Tax Registration
First Annual Return
Compliance Consultation with an Accountant (Optional)
Bank Account referral service with our banking partners.

Public Limited Company Formation Package (PLC)
€ 495.00 (ex. VAT)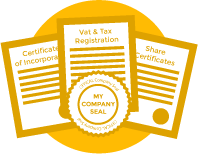 This package is for forming a PLC, Public Limited Company.  The liability is limited to the amount, if any, unpaid on shares held by the members.  A PLC company must have at least two directors, and must have a separate Secretary.
Extra Options For Non Resident Directors
Login or Register to Purchase this Product